United States Judo Federation Member
In the membership portal you will have access to your USJF membership card, which can be downloaded and printed or kept on your smart device as a digital document. There is also information related to your current rank and certifications, along with past accomplishments.
For dojo use, each dojo or club will have unique membership access with specific and relevant information related to the dojo. The same is for each yudanshakai, with a unique access to relevant information specific to your needs.
Current Members:
To access the Membership Portal, use your email address as indicated on your membership application.
For first time users
You will need to set up your account with a current and active email address, as a confirmation email will be sent to you prior to accessing the membership portal.
Select the link to enter the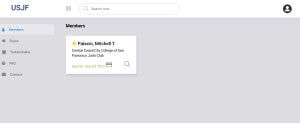 Primary Membership
Full Year
Most common, One year membership and includes all benefits for one year, including personal accident insurance.
Life Membership
Life Membership Programs
Free admission to USJF Jr. Nationals Championships

USJF Administrative Annual fee waived

USJF Promotion Fee waived

5% Reduction in Time-in-grade for all future Black Belt promotions